Yep folks, it's that time of the year, the next release of iOS. They've made some new changes, and such. So without further ado, let's get started!
Info by Wikipedia:
"iOS 11 is the eleventh major release of the iOS mobile operating system developed by Apple Inc., being the successor to iOS 10. It was announced at the company's Worldwide Developers Conference on June 5, 2017. The first beta version was released for developers after the keynote presentation, with a public beta released in late June, and a stable version for consumers scheduled for the third quarter of 2017."
Screenshot:
More Info:
"Among iOS 11's changes, the lock screen and Notification Center are combined, allowing all notifications to be displayed directly on the lock screen. The various pages of the Control Center are unified, gaining custom settings and the ability to 3D Touch icons for more options. The App Store receives a visual overhaul to focus on editorial content and daily highlights. A "Files" file manager app allows direct access to files stored locally and in cloud services. Siri will be able to translate between languages, will feature more human voices, and use a privacy-minded "on-device learning" technique to better understand a user's interests and offer improved suggestions. The camera will feature new settings for improved portrait mode photos and will use new encoding technologies to reduce file sizes. Messages will be integrated with iCloud to better synchronize messages across iOS and macOS devices, and will support person-to-person Apple Pay payments. The operating system will also introduce the ability to record the screen. Certain new features will appear only on iPad, including an always-accessible application dock and a new interface to show multiple apps at once. iPhone and iPad users can drag-and-drop files, though the feature is more limited on iPhone."
Screenshot of the "iOS 11" logo: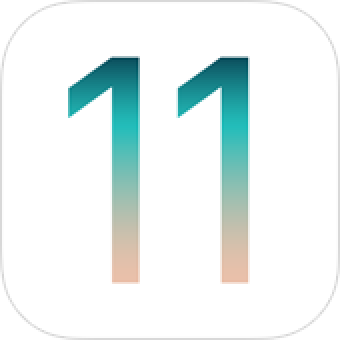 Supported iDevices:
iOS 11 is compatible with these devices.
iPhone:
iPhone 7
iPhone 7 Plus
iPhone 6s
iPhone 6s Plus
iPhone 6
iPhone 6 Plus
iPhone SE
iPhone 5s
iPad:
12.9-inch iPad Pro
(2nd generation)
12.9-inch iPad Pro
(1st generation)
10.5-inch iPad Pro
9.7-inch iPad Pro
iPad Air 2
iPad Air
iPad (5th generation)
iPad mini 4
iPad mini 3
iPad mini 2
iPod:
iPod touch 6th generation
So, they've made it looks a LOT more like their macOS platform (including the ID'less menu bar). Not to mention their slogan is "A giant step for iPhone. A monumental leap for iPad." This version of iOS could've been made for the new 10.5" and 12" iPad Pro's (due to the fact that Apple is claiming it's more like a "laptop without the laptop" (at least in my words)). I'm not sure, but anyway, what do you think about it? Do you like it? Has it changed (especially since iOS, or previous iPhone OS, is 10 YEARS OLD!)? Do you hate it? Preferences are welcome.