The Linux sticky is very old (a little over 11 years), and some parts of the OP are kind of inaccurate, so I felt like I should make a new one, rather than adding to it.
So anyway, this is the new Linux thread. As with the old one, there are
no
dumb questions, as long as you make an effort.
"
Why should I use Linux over Windows/macOS?"

1.
99% of Linux distributions are free.
Not just free as in no cost, but unlike Windows and macOS, they give you the freedom of choice.
2.
Linux is often faster and more stable than Windows.
That's not to say that it will never crash, but if something goes wrong, there's a decent chance it was your fault. Because of that, it's often easier (and cheaper) to fix than when something in Windows goes catastrophically wrong.
3.
Choice is a major aspect of Linux (and other Free OSs) that Windows and macOS lack, or don't have nearly as much of.
And I don't just mean the ability to change your wallpaper or some colors, but the very way that your user interface functions. There are tons and tons of different desktop environments and window managers that you can change on a whim. I attached some screenshots of different desktop environments.
4. In addition to stability and speed,
Linux tends to be more safe than Windows.
That
doesn't
mean that there aren't any viruses or malware, but they're much less common, and when they do show up, they're usually quickly secured by the international community, not just a comparatively small group of developers.
5.
You don't have to leave Windows to use Linux.
I have Linux installed on this computer, but I'm booted into Windows right now. There's also the option of installing it in a virtual machine, which is a little bit like an emulator.
"Don't I have to be a programmer?"

Not at all! You don't need to know a single thing about programming in order to use Linux, and while being a little familiar with the command line might help in some cases, it's extremely rarely necessary.
"Can I still use my programs?"

A lot of programs, like Firefox, Google Chrome, Drobox, Spotify, Skype, Discord, and many others have Linux versions, and many other programs have alternatives that work just as well.
"What distribution should I start out with?"

There are many different Linux distributions, or distros, each tailored to a different audience and/or a different purpose. Ubuntu and Linux Mint are popular newbie distros, although there are others.
"So how do I install it?"
The details can differ somewhat from distro to distro, although the general process is relatively similar, so I'll deal with that later in the thread if newbies have any trouble or questions.
When you want to install Windows (and possibly macOS, I'm not sure), you get an install disk, pop it in, reboot, and follow the prompts for it to install. The process is a bit more involved in Linux, but even then, it isn't too bad.
Most Linux distros are downloaded as a disk image (.iso file) which you would burn to a cd and boot. You can also use a USB drive and boot from that for added convenience.
If you like documentaries, you can watch this for more info on Linux and the free software movement in general. It's pretty interesting:
https://www.youtube.com/watch?v=jw8K460vx1c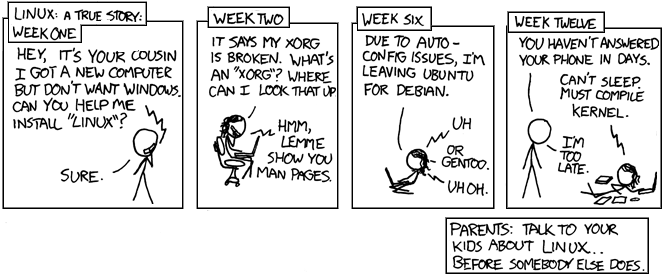 Also, Arch Linux is best Linux