Well, I've been looking at fretless basses for over a year & saving up.
So I go check out a local music store with a sale on Saturday.
The only fretless basses there are real cheap ones with necks I don't like.
A salesman asks me if he can help-I said I came to check out fretless basses.
He says, let me check our computer & he finds out they have an SR500F--in the back, so he goes to check.
They have one.
He brings it out, I go to try it out.
As soon as I start playing it I know this is the bass--this is mine. (As long as it isn't more than I'm able to spend.--it isn't.)
So I play it for a while and buy it.
I got a good price for it, based on what I've seen SR 500s go for.
I get a case to go with it, and leave the store real happy.
My search for a fretless bass is over.
I have been leaning towards a fretless J Bass (MIM) but wanted to try an Ibanez one first.
Well, all it took was asking.
I'm sure I'd be happy with a fretless J Bass--I liked them, but the SR500F was even better.
Here's a bad cellphone picture of it. (Yeah the cloth tag for the controls was still on it, I've since removed it.)
I'll get better ones later-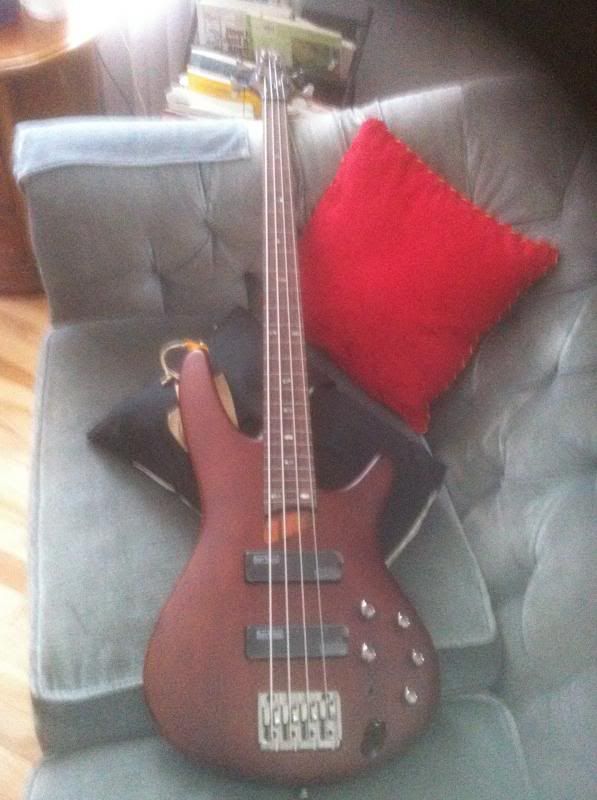 It won't be making any public appearances until I practice on it some more.
Which I did a lot of earlier.